May 5, 2016
May The Fourth Be With You, Happy Cinco de Mayo, and blessed
Free Comic Book Day!
May 2, 2016
Take a moment to pitch in for
Team LITTLE BRUISERS
in their annual walk for hemophilia research.
February 26, 2016
January 16, 2016
Confirmed convention appearances for 2016! Come see me at
MASSive Comic Con
on June 25-26,
Vermont Comic Con
on August 27-28, and
Granite State Comic Con
on September 17-18! More appearances to be announced!
December 18, 2015
May the Force be with us all!
November 28, 2015
Dear Hogfather: I want a Burleigh & Stronginthearm Mark VI "piecemaker" catapult with the optional razorwire attachment and a thing in the stock which tells time.
September 14, 2015
And
Granite State Comic Con 2015
passes into the history books. Great weekend, some wonderful new contacts forged, some old friendships revivified. Tackled some challenging commissions and sold more than a few copies of
THE MONITOR'S GUILD, Book 1
. Much praise to the folks at
Double Midnight Comics
and their legions of volunteer "redshirts" for once again pulling this off!
A collection of mementoes...
While it was of course a delight meeting screen icons like Billy Dee Williams and Noah Hathaway, as an artist one of my more significant moments came when legendary illustrator
Paul Ryan
took the time to briefly drop by my table and look over my work. In particular he had praise for my inking technique. While something this innocuous may not seem like much to anyone outside of the business, to me it meant the world. Helped to round out an enjoyable weekend and bring (for me, anyway) a happy and satisfying end to con season!
August 31, 2015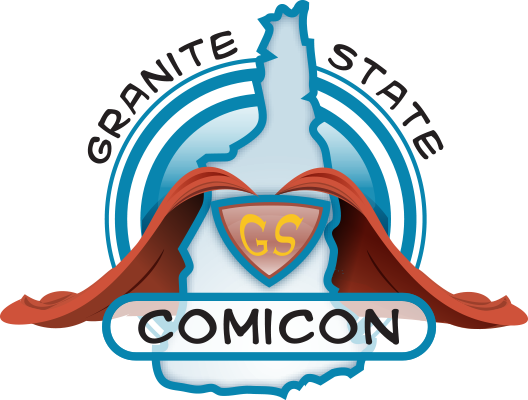 My other "home" convention (yes, I actually have
two
) is only 2 weeks away! Looking forward to seeing
Billy Dee Williams, Nick Bradshaw, Dawn Wells, Noah Hathaway, the 501st Legion
, and
YOU
at
Granite State Comic Con 2015
, September 12-13 in Manchester, New Hampshire! Some all-new prints will be on view at my table, as well as copies of
The Monitor's Guild, Book One
. See you there!
August 13, 2015
EXCELSIOR! Yes, it pretty much goes without saying that
Boston Comic Con 2015
was eight zillion kinds of wonderful. And with barely any time to catch our collective breath,
Granite State Comic Con 2015
is now just a month away! See you all in Manchester on September 12-13!
July 10, 2015
Well, today not only marks a birthday with a "5" on the end, but more importantly it marks the
tenth anniversary
of the launch of this website! I'm a little stunned when I look back and see how much has happened in that time-frame, both for me personally and also professionally. Later this fall I'll also be marking the twenty-fifth anniversary of my career as a professional illustrator --lots more to come on that subject!
Special thanks to my hosts at
Satori Digital Marketing
for putting up with me this past decade. I owe so many more thanks to so many more people who've helped me to this point --I'd list them all here, but that would cause your browser to crash, so I'll instead just point you to the
Acknowledgements Page
of
The Monitor's Guild, Book One
. If you find your name on that page, then you
did
have a hand in getting this artist to this milestone, whether you knew it or not!
Have a wonderful summer and I'll see you all in a little less than a month at
Boston Comic Con
!
July 4, 2015
"...and for the support of this Declaration, with a firm reliance on the protection of divine Providence, we mutually pledge to each other our Lives, our Fortunes and our sacred Honor." Take a moment to re-read
this singularly amazing document
and reflect upon what it truly means. And why not pick up a copy of
The Monitor's Guild, Book One
this summer to celebrate the spirit (and the still-unfulfilled promise) of the Revolution?